Welcome to Zeus's page! Here you shall find information about the town. It is currently the least populated town. Our theme is stone bricks, with sloping bricks as roofs. Take note that you still have to follow the server rules in the town.
The Boss of the town
Current member(s): stevie
Second in Command
Edit
Council member who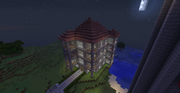 takes over as leader if the Mayor isn't online for 1 week.
Current member(s): Cassabanana
They who help run the town
Current member(s): Angelaheng(recruiting), Cassabanana(Builder)
Attractions

Edit
      Unlike most other towns, Zeus Town has a public animal farm.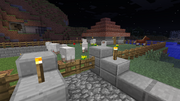 Anybody can just walk in with a group of friends to start a friendly race on         a high tech running track with some obstacles.
A Spleef competition can be held in the Zeus Spleef Arena with      sophisicated gates to seperated those who have fell down and those who    are still competing.
What sets Zeus Town different from others is that it is situated near many diverse biomes. Be it desert, river, forest, plains,mountains or swamp, there are many things in Zeus town to be discovered.
Simple yet Elegant Architecture